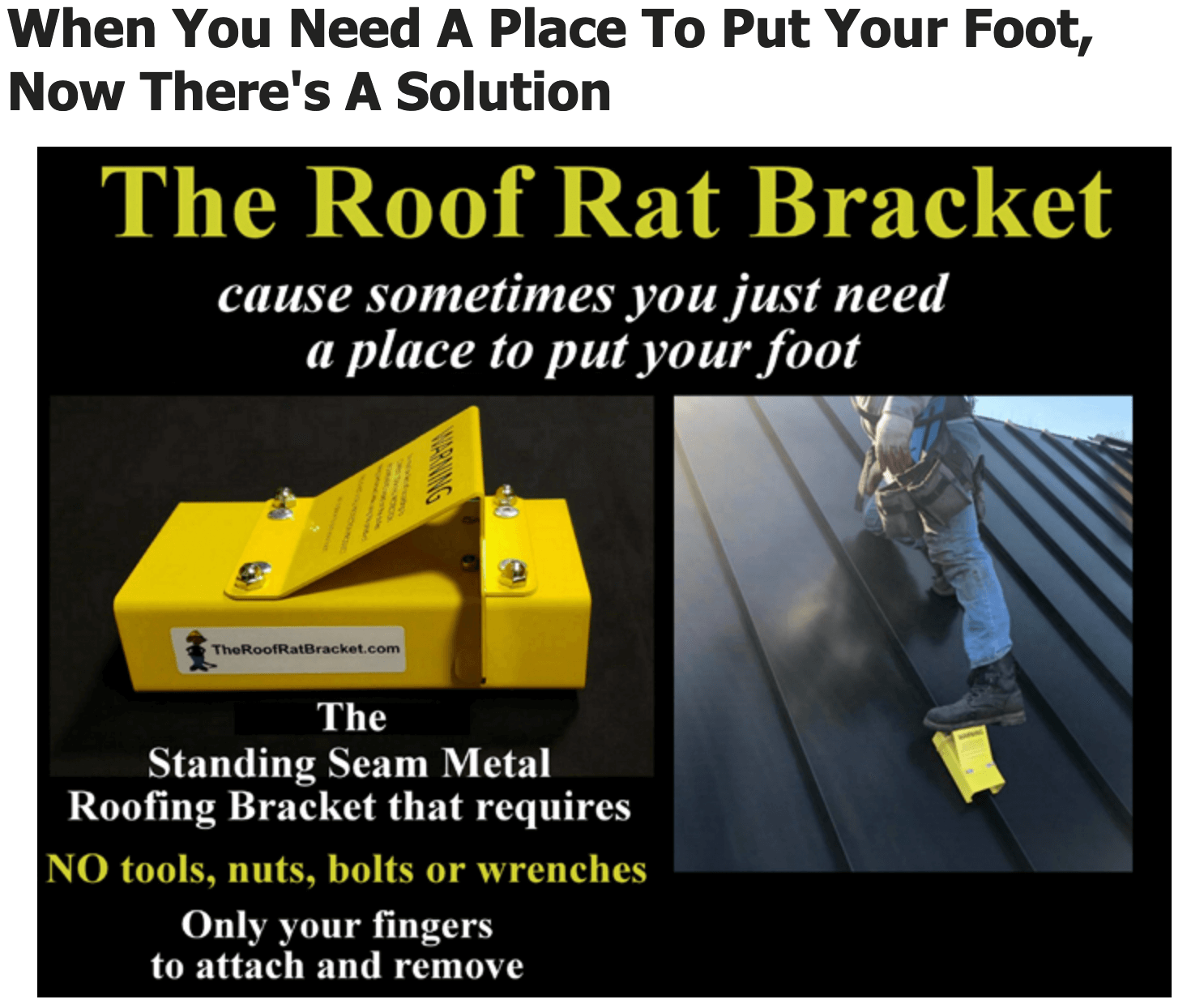 Featured In….

Everyone working on a standing seam metal roof knows, sometimes you just need a place to put your foot. Now you have one! The Roof Rat Bracket is a unique, standing seam metal roofing bracket created to give contracting professionals and maintenance workers a safe place to put their foot.
Conceived and designed by Jim Mitchell, a 50-year veteran in the metal roofing industry, The Roof Rat Bracket is designed specifically for standing seam metal roofs. The Roof Rat Bracket requires no bolts, no set screws, no torque or combination wrenches, or any tools for attachment.
Designed and created for roofers, by a roofer
Featured Media
If you climb up and down standing seam metal roofs on a daily basis, whether it be for inspections or installations, sometimes you need an extra foothold to navigate steep conditions. Today on the Metal Roofing Channel, Jim Mitchell, standing seam metal roofing industry vet of over 49 years, demos The Roof Rat Bracket: his new product designed specifically for work on standing seam roofs.
Source: The Metal Roofing Channel
"This is the coolest and most practical new tool for metal roofing. The fact that it locks itself in place and you can move the bracket so easily makes this an easy purchase. I will definitely be using the Roof Rat Bracket in all of my future roof inspections."
Jeff Hock
"Wonderful! Exactly what I needed at my job site. I have purchased multiple brackets and plan to buy more to have in all of my work vans."
Ralph Curtis